I got the hx2755 a long time ago, back when it was top of the line and it served me well. One day the SDCard slot just stopped working but by that time i had a smart phone and didn't use it much anymore, my kids used it more then i did. So for a long time it sat taking up space, i had intended to open it up for some time and try to fix it but never had a tool that would allow me to do so. Well i finally got off my ass and made my way to the local hardware store to find the tool i needed, the fucker was $5! So lets get to business! heres a little pick of the device before i opened it up: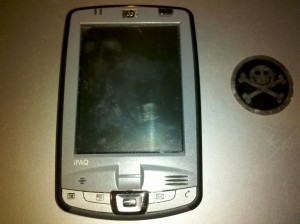 So to start i turned it over, removed the battery and unscrewed the four screws i made arrows to in the pic below. One is hidden behind the stylist.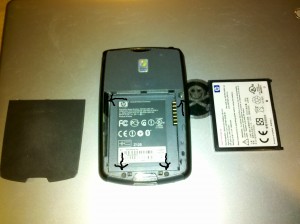 After i got the back off i had two more screws to remove "arrows pointing" and two wires to disconnect "arrows pointing".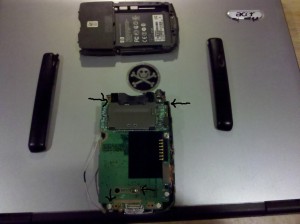 Now i could really open this sucker and take a look at the SDcard slot. Heres what i had to work with: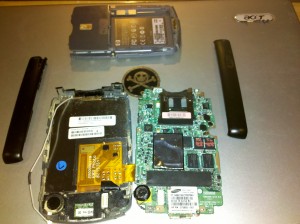 Now for me to see the pins i had to turn the main board back over and remove the tin shield over the expansion slot. Heres a pick of what im talking about "i put a circle around the shield":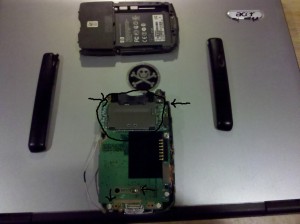 "Yes i did re-edit a image i already used, needless to say i fucked up lol"
Once i had it removed i was able to see a bent pin for the SDcard slot and used one of my tools to bend it back into place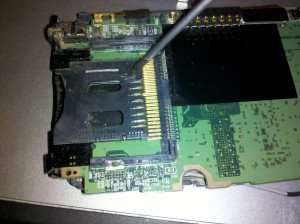 Then i put it all back together. I was a little amazed it turned on let alone that it actually worked! So now that i have this little guy working like new "almost" again my next move is to put linux or something one it. Wish me luck 😀 Well thats how i repaired my hx2755s SDcard slot. Thats it for now, peace.